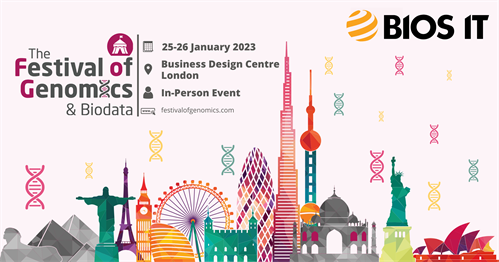 Festival of Genomics & Biodata
The festival is now in its 8th year!
The UK's largest Genomics event - The Festival of Genomics and Biodata - is taking place at the Business Design Centre in London on Wednesday 25 January & Thursday 26 January 2023. It will bring you inspirational speakers, the latest research and clinical breakthroughs, cutting-edge technology and incredible networking opportunities. Free for 90% of attendees, the Festival is designed to help you return to work armed with dozens of new ideas and contacts, but also to keep you engaged, excited and proud of the difference your efforts make for patients. With 8 theatres of content, 150 speakers and an extensive range of topics there's something for everyone.
The festival is the main place for the UK genomics industry to meet, have fun, learn, do business, connect with other people and get inspired.
The festival is not like other genomics events, and neither is it meant to be. The early idea was "Woodstock for Genomics" - to bring people together, inspire them and leave them buzzing with energy and ideas – but also be entertained. So that they leave with an increased motivation and the drive to better use genomics and related technologies. Ultimately, we want to make sure that patients benefit.
TURNKEY IT SOLUTIONS THAT SCALE TO MEET CUSTOMERS NEEDS
BIOS IT has extensive expertise in HPC and has been guiding businesses through implementation for three decades.
Pay us a visit at our booth to discuss, demo and learn all about the best solutions for your workloads.
Start Date: Wednesday, 25 January 2023
End Date: Thursday, 26 January 2023
Location: Business Design Centre, London
Stand details: TBC