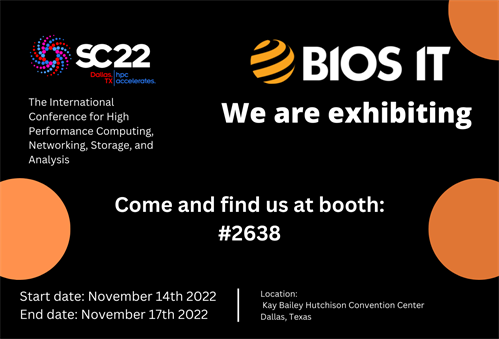 Super Computing 2022
The World's Most Famous Supercomputing Event Is Making Its In-Person Return in Dallas, USA
Our world is changing rapidly. Complex challenges are suddenly arising alongside an urgent demand for answers. Leveraging HPC, skilled minds employ innovative technologies to respond to the call — driven by data, simulating possibilities, and unlocking new solutions.
By harnessing the power of HPC, the SC community is unleashing a deeper understanding of our world at an unprecedented pace.
TURNKEY IT SOLUTIONS THAT SCALE TO MEET CUSTOMERS NEEDS
BIOS IT has extensive expertise in HPC and has been guiding businesses through implementation for three decades.
Pay us a visit at Booth 2638 to discuss, demo and learn all about the best solutions for your workloads.
SC22 -Only Opportunities
Throughout Super Computing week, we'll send you a daily email digest with all the highlights from each day, as well as links to white papers, webinars, videos and more to digest at your leisure, so you can stay up to date with all the latest SC22 and HPC news.
Some of the exceptional products we will be showcasing are currently under NDA – all the more reason to subscribe, to be among the first to witness the unveiling!
You will also have the unique opportunity to enter an SC-attendees-only daily draw for tech goodies over the 3 days we're attending.
Start Date: Monday, 14 November 2022
End Date: Thursday, 17 November 2022
Location: Dallas, Texas
Stand details: 2638