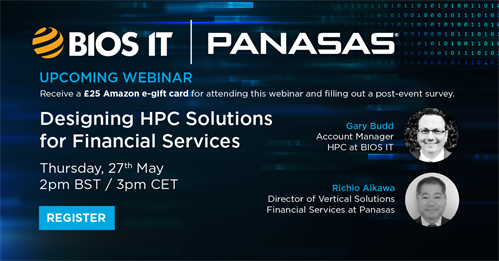 Designing HPC Solution for Financial Services
Financial services organizations are often left facing the challenges that arise from cobbling together HPC components for performance, reliability, manageability and ultimately
increased profits through improved algorithmic trading and risk strategies and analyses.
One solution is a prescriptive integrated and tested HPC solution for simplified design, rapid deployment, and tremendous scalability, performance and support.
Join BIOS IT, Supermicro and Panasas for an overview of their HPC Solution for Financial Services* and the BIOS IT turnkey approach from design and testing at the BIOS IT Labs, to
setup and services, and enterprise support.

• Energy-Efficient Compute Cluster Servers
• Price-Performant Parallel File System Storage
• Access To Real World Workload Testing
• Integration, Configuration and Managed Services

*Receive £25 amazon e-gift card for attending this webinar and filling out a post-event survey.
Start Date: Thursday, 27 May 2021
End Date: Thursday, 27 May 2021
Location: Virtual
Stand details: BIOS IT