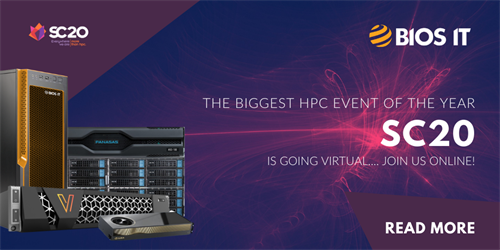 SC20
The biggest HPC event of the calendar year, SC20, is going virtual. Join us online were we will be discussing our broad range of HPC solutions for a variety of verticals, including Life Sciences, Academia, Data Analytics and Manufacturing. We will be bringing you the latest news from the event and news and announcements from our chosen technology partners.
Each year, SC provides the leading technical program for professionals and students in the HPC community, as measured by impact, at the highest academic and professional standards.
Discover the latest technologies, products, solutions, and services from cutting-edge innovators joining us from around the world. SC20 presents you with the opportunity to meet and interact with industry, research organisations, startups, and universities all in one place.
Start Date: Tuesday, 17 November 2020
End Date: Thursday, 19 November 2020
Location: Virtual
Stand details: BIOS IT