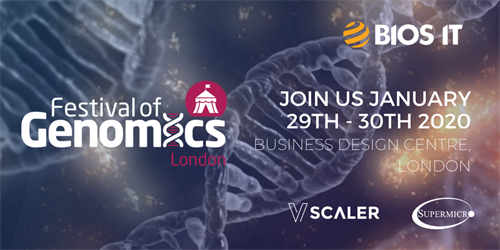 Festival Of Genomics 2020
Join us at the Festival of Genomics in London on January 29th and 30th, where we will be showcasing our optimised solutions for the healthcare industry.
BIOS IT will showcase its range of optimised HPC and cloud solutions for genomics workloads, including Gene Genie and vScaler.
The Festival of Genomics is a unique experience – a crossroads for the entire genomics ecosystem to discover, meet, learn, have fun and celebrate. It is the largest genomics event in the UK and the fastest growing genomics event in the world.
The Festival will empower people from drug development, healthcare, patient & academic organizations to define the future of genomics in human health and disease.
Contact us to arrange a meeting at the event, or follow us on Twitter and LinkedIn throughout.
Be sure to register on the Festival of Genomics website.
Start Date: Wednesday, 29 January 2020
End Date: Thursday, 30 January 2020
Location: Business Design Center, London
Stand details: 39